Originally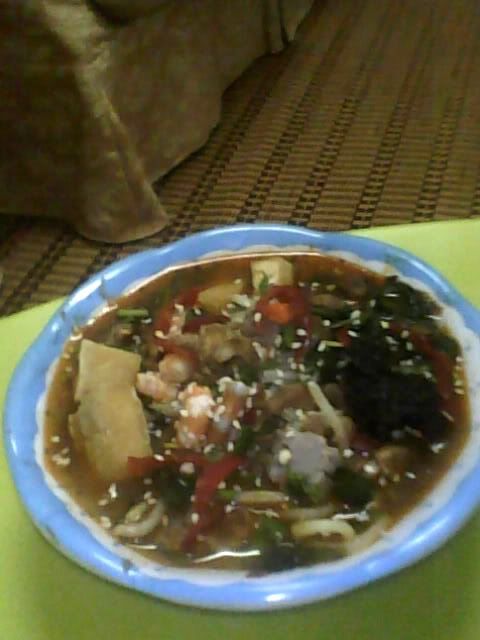 Ingredients
200 grams yellow noodles (boiled al dente)
(alternatives - vermicelli, broad noodles or spaghetti)
300 grams orange sweet potatoes(boiled
al dente
,peeled and mashed)
200 grams beef (slice thinly and boiled)}Keep the beef broth for the golden broth.Shred the cooked meat. Set a side for garnishing.
200 grams shrimps(stir fry with little oil, then peel the skin. Blended the peeled skin with some water. Sieved it to be added into the
golden
broth. Put a side the cooked shrimps' meat for garnishing.
30 grams bean sprouts(blanched)
30 grams kangkung(blanched)
2 pieces tofu(fried and dice into cubes when cool)
Some spring onion
Some fried onion
Some slightly grilled sesame seed
Salt and sugar to taste.
Paste for the golden broth and garnishing paste
Part 1
Half an onion (sliced thinly)
2 cloves garlic(sliced thinly)
Half an inch ginger(sliced thinly)
Part 2
*10 grams dried shrimps
*Half an onion
*2 cloves garlic
*Half an inch ginger
*1 stalk lemon grass
*4 dried chillies(seeded and soak)
*5 chillies
* Blend all ingredients with some water.
4 tablespoons oil.
Extra Ingredients
2 tablespoons oyster sauce
2 tablespoon soy sauce
1 tablespoon
Heat the oil in a wok. Stir in
Part 1
until fragrant and slightly brown. Pour in
Part 2
. Simmer until thick. Lower the heat.
Take a suitable pot, put in the 3/4 of the paste. Put aside.
For Garnishing Paste
- Continue to stir the remain paste in the wok on low heat. Then stir in the oyster sauce and soy sauce.Make sure this paste is not watery. Put out the heat.Serve in a small bowl.
For the Golden Broth.
- Put the pot with the earlier paste on high heat. Immediately, pour in the beef and shrimps broth. Let it boil for a minute. Then add in the the mashed orange sweet potatoes.Boil the broth for a few minutes.Don't forget to season the broth with salt and sugar. Taste it first before turn off the heat.
Take a nice bowl. Lace in some of the blanched vegetables. Put a reasonable noodles on top. Pour in the
golden broth
. Garnish with the cooked beef,shrimps, fried tofu, some chopped spring onion, fried onions and sesame seed.
And
ENJOY